Statues linked to Confederacy-Texas History
I first read the the works of writer/novelist Jan Reid many years ago. His book "Let the People In" on the life and times of Governor  Ann Richards is just one of the best biographies I've ever read.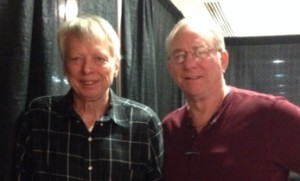 I met him in person just over a year ago and he has commented on some of my posts here at Real Texas Blog.  Some of his comments have been supportive, some not.  That's the way it goes when a writer puts his thoughts out in the public arena.
Jan has lots of experience in doing just that, putting his thoughts and sometimes his opinions out in the public arena.  His recent Facebook posting about four statues on the campus of The University of Texas is enlightening….if read objectively.
Here is Jan Reid's Facebook post:

Four statues on the University of Texas' South Mall and an elegant fountain contributed to the campus by the sculptor Pompeo Coppini honor men who were all deceased by 1920 but have in recent weeks become sources of roiling controversy — scoundrels de jour. Those five men left substantial footprints on Texas, some larger and of greater seeming dignity than others. Until the four statues began to be splashed with paint and scrawled with graffiti, I wonder how many of the thousands of students who walked the South Mall ever stopped to look up at them — to think about or even wonder who they were? I know I didn't during my two years in graduate school, nor in later years on my frequent strolls across campus to use the fine libraries.

Robert E. Lee's father, "Light Horse" Harry Lee, was a celebrated cavalry commander in the Revolutionary War. He later put down the anti-tax Whiskey Rebellion during the presidency of George Washington and was elected governor of Virginia. Robert E. Lee owned no slaves until he was 49, and that circumstance was hardly his choosing. His father-in-law, a step-grandson of Washington, owned a plantation across the Potomac from the nation's new capital. When the man died his bequest included freeing the plantation's slaves, but he left the estate in desperate arrears. Lee interrupted his military career to save the operation. Incumbent slaves were all the labor force, and as soon as he restored solvency, he freed those slaves in 1862. He never owned another. The plantation is now the Arlington National Cemetery.

Returning to his military career, Robert E. Lee was a distinguished officer for the Union or he wouldn't have been a general in any army. On two assignments he helped protect settlers on the Texas frontier against raids by Comanches and Kiowas. He oversaw the engineering of fortifications of the New York and St. Louis harbors. While earning his marks in the Mexican War as a combat officer he found time to build a 600-mile road from Saltillo to San Antonio. He put down the revolt and forced the surrender of John Brown and his followers after they took over a federal armory at Harper's Ferry. Lee opposed secession. He fought with the Confederates because he was a loyal Virginian. It's true he could have sought refuge in the part of his state that resisted secession, broke off, and became West Virginia — and likely would have been compelled to fight against his own kinsmen. After the surrender at Appomattox, unlike some Southern politicians and commanders he refused to engage in guerrilla tactics against the Union, and his grace, reticence, and calls for reconciliation were a gift to the reconciliation of the country. He immersed himself in the cause of higher education as president of a university for the five more years he lived.

Albert Sidney Johnston graduated from West Point in 1826. A native of Kentucky, he moved to Texas and enlisted as a private in its army in the war for independence from Mexico in 1836. Afterward he was appointed the Republic of Texas' Secretary of War. When Texas came into the Union, as a U.S. officer he too helped defend the embattled Texas frontier from the raids of the hostile tribes. His superiors ordered him to Utah to compel the Mormons to submit to federal law. Like Lee, he refused the offer of a Union command when the Civil War began and returned to his adopted home state, Texas, in 1861. His orders were to lead the Confederacy's Western Department, a hopeless task, with loss after loss of strategic rivers, for they, more than railroads, were the strategic highways of the Civil War. In 1862 he was killed in action at the horrific battle of Shiloh on the Tennessee River.

Jefferson Davis, the president of the Confederacy, spent ten years as a slave-owning planter in Mississippi before championing the annexation of Texas by the Union. He first came to Texas with Mississippi volunteers under the command of Zachary Taylor's army of the Rio Grande in the Mexican War. He served with distinction as a regimental commander in that war and was Texas' U.S. senator from 1847-1851. Before secession, as U.S. Secretary of War he proposed the experiment of using camels as army pack animals in Big Bend. When the Confederacy collapsed, he tried to escape to Texas. Though he was indicted for treason, he was never tried. In 1875 he was offered the presidency of the newly established Agricultural and Mechanical College of Texas. To the probable relief of future Texas Aggies, he declined the offer.

Davis's ally, John H. Reagan, was a resilient and canny politician. Born in Tennessee, Reagan rose from county judge to state legislator to congressman in east Texas. While Robert E. Lee put down the rebellion of John Brown and his followers at Harper's Ferry, Reagan believed the violence doomed the Union. Trying to have it both ways, he supported the campaign of a secessionist candidate against Sam Houston in 1859 while running for reelection to Congress on a pro-Union platform. He called on Houston to "submit to the will of the people" over secession, and after the war began he was appointed the Confederacy's postmaster general. A fugitive at war's end, he was arrested with Davis and a former Texas governor, Francis Lubbock, for whom the west Texas city is named. Unlike Davis, Reagan spent the next twenty-two weeks in solitary confinement at Fort Warren in Boston, and while there Reagan wrote an open letter to Texans calling on them to recognize U.S. authority and renounce secession and slavery.

The letter won him scathing contempt in his home state, but he was a political survivor, some say a statesman. From 1875 to 1887 Reagan was again a member of Congress. In Washington he chaired the committee that created the Interstate Commerce Act, and in Austin he helped framed the state constitution of 1876 that governs us still. Texans elected him to the Senate in 1877, but answering the pleas of Governor Jim Hogg he resigned to return home and chair the newly formed Texas Railroad Commission, originally designed to facilitate state compliance with the federal law of commerce. The Railroad Commission came to be known more for its regulation — or obedient servant — of the oil and gas industry. OPEC oil-producing nations used the Texas Railroad Commission as a model for creating its 20th Century cartel.

George W. Littlefield came to Texas from Mississippi in 1850 as a result of a serious family dispute. When the Civil War began he enlisted in Terry's Texas Rangers, mounted cavalry who fought with the Army of Tennessee. A cannon shell blast sent him home in 1863, where, according to one account, he "went to work to make the best, he thought, of a miserable life, having to carry his two crutches everywhere." Worm infestation and floods ruined him as a farmer; he made his comeback running a dry goods store in Gonzales and by driving a herd of cattle to market in Abilene, Kansas. In 1877 he bought water rights along the Canadian River in the Panhandle and established the LIT Ranch, which he sold four years later for the then-vast sum of $248,000. He extended his cattle kingdom into New Mexico, pioneering the use of windmills and barbed wire. He climaxed his ranching operation in 1901 by buying 235,858 acres of the XIT Ranch in west Texas.

Littlefield moved to Austin and the banking business in 1890. He installed the state's first electric lighting system in his bank, then housed in the Driskill Hotel. In 1911 he was appointed a regent of the University of Texas. When he complained of Northern bias in text books used for teaching American history, the UT professor Eugene Barker challenged him to put more resources into archives if he wanted better writing of history. The rancher, banker, and ex-Confederate soldier established the Littlefield Fund for Southern History and gave over $100,000 of his money to the fund.

I am no fan of the Confederacy.

If I had been alive at the time, I would have agreed with Sam Houston that secession from the Union was tragic folly. I wouldn't have signed up to fight for it, though I might have been forced into it by the conscription gangs that roamed the state, shooting or hanging any man who resisted. My great-great grandfather came over to Gonzales County from Alabama with his family and possessions in a wagon after the Civil War. I don't know what motivated him to serve as a captain in the Confederate army. I know he lost an arm at Shiloh, and I'm proud that he never owned any slaves. Some more distant and prosperous relations in my dad's family probably owned slaves in the Charlottesville area of Virginia. The only time I met their descendants they were genteel people who withheld their children from integrated schools.

The secession proclamations of every state in the Confederacy made it clear that they were doing it over the "right" to own other human beings. Slavery was wrong, period. The people who pulled Texas into that ruinous war were wrong. The Ku Klux Klan and long heyday of Jim Crow were built on cowardice and hatred. In my lifetime the Confederate battle flag has been commandeered as an emblem by people I consider racist yahoos. Prompted by a murderous rampage inside a prayer session of a historic black church by a warped kid who hoped to incite a race war, the state of South Carolina pulled down that flag from its official flagpoles. South Carolina should have done that long ago.

But what has that to do with these five men in Texas?

Who can say where their hearts really were? The task force concerning the statuary argues that the student body demanded it to act. Are they referring to the student council? Was there a referendum? And how distinguished has the university's record on "diversity and community relations" been in the years since those statues and the fountain went up on the South Mall? Herman Sweatt, an activist relegated to a segregated law school in Prairie View, had to fight to the U.S. Supreme Court to begin the overthrow of the "separate by equal doctrine" and win his rightful place on the University of Texas campus in Austin. John Holmes, Jr., a longtime district attorney of Harris County, led a student fight in the early 1960s that tried to keep blacks from ever playing football for Texas. The erection of a statue honoring Barbara Jordan encountered stiff opposition. And those are just some of the things UT alumni should not be proud of.

One of the five proposals of the task force was to move all the statues to a history center elsewhere on campus. They were referring to the Briscoe Center for American History, the splendid small collection first named for the professor Eugene Barker, over by the LBJ Library. I had to wonder what those librarians would do with them — move them farther out of sight and mind to the Briscoe's storage archives in what used to be the Balcones Research Center? Due to the books I was researching, for the past several years I've often felt like a part-time resident of the Briscoe Center. I don't recall ever seeing an undergraduate there. Grad students, scholars, and people trying to find out about their family histories are its clientele. And what were the university's leaders going to do with Coppini's beautiful sculpture of horses running through water? Give the name of the iconic fountain to someone besides Littlefield?

The latest news brings word of a decision from President Fenves that the statue of Jefferson Davis, now designated the arch-villain of the five, will be moved off the South Mall to a renovated Briscoe Center. President Fenves' statement read: "As a public university, it is vital that we preserve and understand our history and help our students and the public learn from it in meaningful ways. Jefferson Davis had few ties to Texas but played a unique role in the history of the American South that is best explained and understood through an educational exhibit. The Briscoe Center has the expertise to do that."

The press release further read: "The university will also consider placing a plaque on the Main Mall to provide historical context for the remaining statues and for an inscription west of the Littlefield Fountain that pays tribute to the Confederacy and Southern patriotism. … UT Austin has worked in recent decades to overcome its history as a segregated university and has become a national leader in issues related to diversity and inclusion. Adding the statue to the Briscoe Center's collections will continue those efforts."

One would like to think so. But the fact is, Jefferson Davis had plenty of ties to Texas. As a result of all this, to "maintain symmetry," the statue of Woodrow Wilson will also be moved somewhere else on campus. If you wonder why Wilson's likeness was ever in the lineup of "the Confederate statues," it may have been because the sculptures were commissioned when he was president. Also he was born in Virginia. His father, a minister, supported the Confederacy, and his mother helped treat and bandage the wounds of rebel soldiers.

The brouhaha gets even more ridiculous when you think where all this could lead. After Jefferson Davis declined the presidency of Texas A&M, it was later accepted by Lawrence "Sul" Ross, who had won two terms as governor on the strength of having been a Confederate general and inflated claims of being a great Indian fighter. Ross is so revered for rescuing A&M from what could have been extinction that Aggies toss coins at his statue on campus for luck on the way to taking exams.

Are the powers at A&M going to disinherit him? Is Sul Ross State University in Alpine to be renamed? Is there to be a name change of Jeff Davis County? Will the struggling little Panhandle town of Littlefield need to change its name, too? Or will all those entities face public condemnation?

The little college in Wichita Falls, Midwestern State it's now called, where I attended undergraduate school then called its athletic teams the Indians. For the most part, persons of that ethnicity still want to be called Indians. The mascot made historic sense because the last of the Texas conflicts with the Comanches, Kiowas, and Southern Cheyennes was called the Red River War.

A few miles upriver from the campus is a little town called Quanah, named for the last Comanche war chief, and nearby downstream is another one named Nocona, for his equally ferocious war chief father. Neither of those names were decided upon in celebration of the past killing.

Some years ago, when a wave of political correctness swept that campus, a decision was made to change the teams' name to Mavericks. Did the people who pushed that ever read that Samuel Maverick, the first member of his clan in Texas, was known for building his cattle enterprise through indiscriminate roundups of unbranded yearlings? A number of people in south Texas thought he was a cattle thief. Did they know, as Maury Maverick, Jr. used to write, that the Mavericks brought the first slaves to San Antonio? Tinkering with history is a feckless and often absurd business.

Claims have been heard that the UT administration was planning to do something about "the Confederate statues" before the outrage and tragedy in Charleston, South Carolina. Perhaps so, but this fiasco has the appearance of a panicky stampede driven by nightly news and a surrender to vandals armed with cans of spray paint. What is the administration going to do if the paint and graffiti assaults continue?

One thing missing from all of this is a strong statement by the administration that anyone caught defacing a statue or any other university property is going to be arrested, handcuffed, charged, and jailed for criminal mischief. That offense becomes a felony if the property damage exceeds $1,500. And any student convicted of that offense should be permanently expelled, without exception.

The task force's recommendations and the president's ruling are being presented be reasoned and principled, but in my view the better word is convenient. As violent, stormy, cruel, bigoted, and wrong-headed as Texas history has often been, this tempest in a political teapot does nothing to change that — or serve the cause of educating the university's students. The leaders who want to airbrush our state's past will soon enough be forgotten.

And unlike a Robert E. Lee, they deserve to be.
Jan Reid is sure to get some blowback on his opinion.  Those of us in the news business and writer's in general expect that.  We know not everyone has the same opinions as our very fine and objective opinions and observations.  In my opinion, Jan was thoughtful and intelligent in his post.
There are lots of Longhorns out there….what do you think about it?
In my opinion….Jan Reid hit all the points right on the money. Good opinion piece.
I'm David out in Real Texas
Still keepin' it real.