Is the Cline Shale 10X bigger than Eagle Ford?
That statement above is just one headline I have read lately speculating on how big the current boom in West Texas is.  If the Cline Shale play is indeed 10 times bigger than Eagle Ford Shale  play, then it is just huge.  Bigger than I can imagine.
Most you you readers know the part of Texas I live in which I often refer to as Real Texas, is right smack dab in the middle of a big ole Texas oil boom.  The roads boil with the dust of oilfield traffic and the pickups, sand trucks and water haulers, and other transport type trucks are up and down our West Texas roads 24 hours a day.  We even have a railroad hauling everything from sand for fracing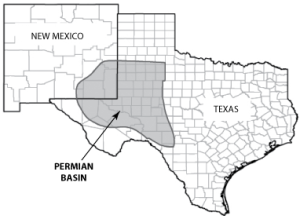 formations to heavy equipment, to crude oil that runs through this small town twice a day.  Commerce is everywhere.
I once owned the newspaper in Big Lake, Texas as well as a couple of online trade publications.  The small city of Big Lake, with a population of around 3,000 souls, now regularly has a daytime population of close to 7,000, sometimes 10,000 according to city and county officials.  Across a wide area of West Texas, restaurants are full, convenience stores are coffee and 24-hour fast food paradises, and housing is scarce and many times non-existent.  Oilfield workers are living in rented apartments, rented rooms in houses, mobile homes, travel trailers and RV's of all shapes and sizes.
There are plenty of oilfield jobs for the young men and some intrepid women who work the oilfield and money seems plentiful also.  Families are driving newer vehicles than they did a few years ago and the economy out here is buzzing right along.
It reminds me of a bumper sticker after the 1980's oil collapse. That bumper sticker said,
"Lord, please send us another oil boom and we promise not to screw it up this time."
This time, the oil boom is the result of a lot of hard work and research by geologists and drilling specialists and newer methods of extracting oil and natural gas out of shale formations at a depth between 9,000 to 11,000 feet.  Many of the wells being drilled are of the horizontal variety.  I noticed in the drilling report yesterday that one particular company was planning on drilling 11 new wells in my county (Irion) at a depth in excess of 9,000 feet and they were all horizontal wells.
I remember a few years back when a seismograph crew came to Big Lake and stayed about two years.  They worked quite a bit in the Farmer's field area south of Big Lake and on into North Reagan County and parts of Irion County.  It was all hush, hush at the time and the 'doodlebuggers' were very closed mouth about what they had discovered.  That area and quite a few more square miles is now known as the Cline Shale play.  We shoulda paid closer attention to what they were doing back then.
Lying approximately 9,250 feet below the surface, the Cline, an emerging unconventional energy play on the eastern flank of the Midland Basin, runs roughly 140 miles north-south and is 70 miles wide through portions of Coke, Fisher, Glasscock, Howard, Irion, Nolan, Reagan, Scurry, Mitchell, and Sterling counties.
First estimates, which are usually low, indicate the Cline holds more than 30 billion barrels of recoverable oil, exceeding both the Bakken fields in North Dakota and Eagle Ford Shale.  Shale is an abundant very porous sedimentary rock formation.  The Cline shale is bigger than the amazing Eagle Ford in South Texas by nearly 50 percent. There already is a ton of oil production, along with jobs and an economic boom, coming out of Eagle Ford Shale, found just below Bexar County and 400 miles long and 50 miles wide, according to the Texas Railroad Commission. Within eight years, Eagle Ford, which affects 30 counties that touch the Mexican border and extend to East Texas, and the Bakken will produce more oil annually than Saudi Arabia, predicts the International Energy Agency.
And when the Cline Shale play comes into full production it will be a sight to see.  Why?
The Cline Shale reservoir of oil is believed to be 200 to 550 feet deep, which is the equivalent of 10 Eagle Ford shales stacked on top of each other. The shale contains 85 percent oil and liquids-rich gas.  I live right in the middle of this fantastic Real Texas boom area.  You can literally see the infrastructure building out to accommodate this gobsmackin' oil boom right before your eyes in  Midland/Odessa, Sweetwater, Snyder, San Angelo, Big Lake, Mertzon, and many more oil bases throughout West Texas
From all reports, it's gonna be big.  Here's a bit of history:
Just 13 or so miles down the road from Big Lake, Santa Rita No. 1 blew in back in  1923.  Oil operators have been punching holes in the ground in the Permian Basin ever since.  In fact, the Cline Shale, Baakan Shale, and many more drilling areas are really coming on strong.  It's so strong that predictions are that the United States will become the world's largest oil producer just a few short years from now.  Yep, bigger than Saudi Arabia.  All that news is good for Texas and good for the USA……if we don't screw it up this time.
Change the world?
If the president wanted to change the world almost overnight, he can quit issuing presidential decrees on things he knows we won't follow out here such as gun control, but he could mandate that all federal cars and  trucks be run on compressed natural gas.  In addition to adding thousands of good paying jobs, the USA would be energy independent.  The infrastructure to support CNG would be built almost overnight as demand surged.  Goodbye Arab oil dependence and good riddance. It is estimated we have over a one hundred year supply of clean burning natural gas in the USA.
We love wind generation too.
And it's not that the wind doesn't blow out here either.  I can drive just over the hill from where I live and see a couple of hundred wind generation towers all turning into the wind.  And there is a massive transmission line project that stretches from here to San Antonio or beyond. The towers are still going up along Interstate 10.
We have energy coming out our ears around here.
The Permian Basin is an oil producing area that is about 250 miles wide and 300 miles long.  It is a geographic area of legendary status.  A good many fortunes have been made and lost since in the West Texas oilfields since the drilling of Santa Rita No. 1 and the thousands of wells to come after it.
Santa Rita No. 1 attracted a whole generation of oil workers and speculators and San Angelo along with Midland/Odessa became a major beneficiaries of the oil boom.  The train ran from San Angelo to the Santa Rita Well site and it attracted oil speculators, con men, young men with big dreams, plenty of money, and plenty of women to San Angelo.
Now we have another boom.  And it is a newer generation of oilfield folks almost from derrick men at the top of the drilling rigs and workover rigs to the floorhands, to the oil speculators.  The older crowd either retired or just went broke after the last bust cycle and never came back to the oilfield.  There is also a new generation  of truck and transport drivers.  We also have to watch our driving in this area just so we don't get run over by a transport truck or roustabout truck.  This area is where the activity is these days, along with a few other big shale formations where new technologies is allowing recovery of significant reserves.
We just hope we don't screw it up this time…..